The Sun Oven can do a lot, but not every thing. It won't replace your grill. Sun Oven burgers would be more like meatloaf and steak, well I don't even want to go there.
The Fourth of July weekend doesn't have to be all about the grill. While the burgers and brats are sizzling away the Sun Oven can be on baking duty and provide some of the day's entertainment. You could have an endless supply of freshly baked cookies. Trader Joe's has some really good frozen dough that will make your life a lot easier or if you insist you can make your own. Bake them in small batches and let the kids help keep an eye on them.
If your guests have never seen the Sun Oven in action before, it can easily become the cookout's main attraction; at least until the fireworks start.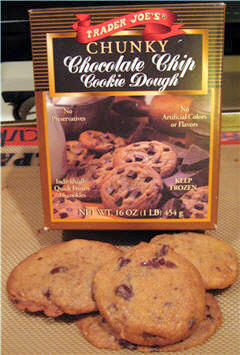 According to Wikipedia, Garibaldi biscuits first appeared during a period of wartime rationing in the mid 1800′s and were named after the Italian general who led the fight to unify Italy; Giuseppe Garibaldi. They were first manufactured in 1861 in Britain and are still available today. In the U.S. they were know as Golden Raisin Biscuits and were made with raisins as opposed to the currants of their British counterparts. The U.S. version is no longer available, but the British one can be found online and in specialty food stores.  They were always one of my favorite cookies, not too sweet and with a slightly chewy texture, so I was very pleased to find a recipe for a similar cookie on the King Arthur Flour website not too long ago. I have since made two batches, the first time I followed the recipe to the t. The following has been tweaked just a bit.
Sun Oven Cranberry Orange Garibaldi's
1 cup unbleached all-purpose flour
2 tablespoons confectioners' sugar
1 teaspoon baking powder
1/4 teaspoon salt
6 tablespoons cold butter, cut into small pieces
These cookies can be whipped up on the spur of the moment and you'll have no trouble fitting the whole batch of 16 in the Global Sun Oven. I know, there are only nine in the picture; we ate some before I got a chance to take it.
Almond Macaroons
Ingredients
1 cup whole almonds, blanched
2/3 cup sugar
1 large egg white
1/2 tsp almond extract
pinch salt
additional whole blanched almonds, candied cherries
Preparation
Set Global Sun Oven out to preheat.
Line a baking sheet with parchment paper
Process 1 cup almonds plus sugar in a food processor (pulse) until fine, add egg white, almond extract and salt, pulse until combined. Roll mixture into 16 balls, arrange 2 inches apart on baking sheet. Slightly flatten balls. Press 1 almond or 1 candied cherry on each cookie. Bake until pale golden, cool on rack.
For instructions on how to blanch almonds click here
Cookies are one of the few things that can easily burn in the Sun Oven, and fitting a decent sized batch into the cooking chamber can be very challenging. That's why I usually stick to bar cookies. The following recipe was adapted for the Sun Oven from the 2002 edition of Gourmet magazine. The original recipe calls for a 13- by 9- inch baking pan which does not fit in the Sun Oven. Instead I use two toaster oven size rimmed baking trays (7- by 9- inch) and either bake the cookies in two batches or stack them.
Sun Oven Coconut Raspberry Bars
Ingredients
1 1/2 cups sweetened flaked coconut
1 1/4 cups all-purpose flour
3/4 cup packed light brown sugar
1/2 teaspoon salt
1 1/2 sticks (3/4 cup) cold unsalted butter, cut into pieces
1 1/2 cups old-fashioned oats
3/4 cup raspberry jam
Preparation
Set Sun Oven out to preheat
Spread 3/4 cup coconut evenly on a baking sheet and toast in the Sun Oven until golden, about 5 minutes, then cool.
Blend together flour, sugar, and salt in a food processor, then add butter and blend until a dough begins to form. Transfer to a bowl and knead in oats and toasted coconut until combined.
Reserve 3/4 cup dough, then press remainder evenly into the bottom of two buttered 7- by 9- inch metal baking pans and spread jam over it. Crumble reserved dough evenly over jam, the sprinkle with remaining 3/4 cup (untoasted) coconut.
Bake in preheated Sun Oven approx. 40 minutes. If you are baking both pans at once, the top one will bake slightly faster. Cool completely in pans on a rack. Loosen from sides of pans with a knife, then lift out in one piece and transfer to a cutting board.
Cut into 24 bars.