Experience the power of Solar Cooking
Cook, bake, dehydrate, or boil with the world's most universal power source - the sun! No need for special cookware - you can use normal everyday cookware in your Sun Oven.
The Ultimate Solar Appliance
Cook, bake, dehydrate, slow-cook, or boil your food. Use it as a solar-powered dryer for herbs, clothes, or even wet electronics. Off grid – pasteurize water for safe drinking. Use the Sun Oven to sterilize medical equipment. The Sun Oven is the world's most versatile solar cooker.
Great for Everyday Backyard Use
Use it in the back yard any time. A great supplement to your grills and smokers! Cook like you would cook in your oven or slow cooker, but outside. Keep the house cool in the summer! Uses no propane or electricity – just free sunshine.
https://cdn.shopify.com/videos/c/o/v/c5b277f074134a9e871890a03cfa6dbd.mov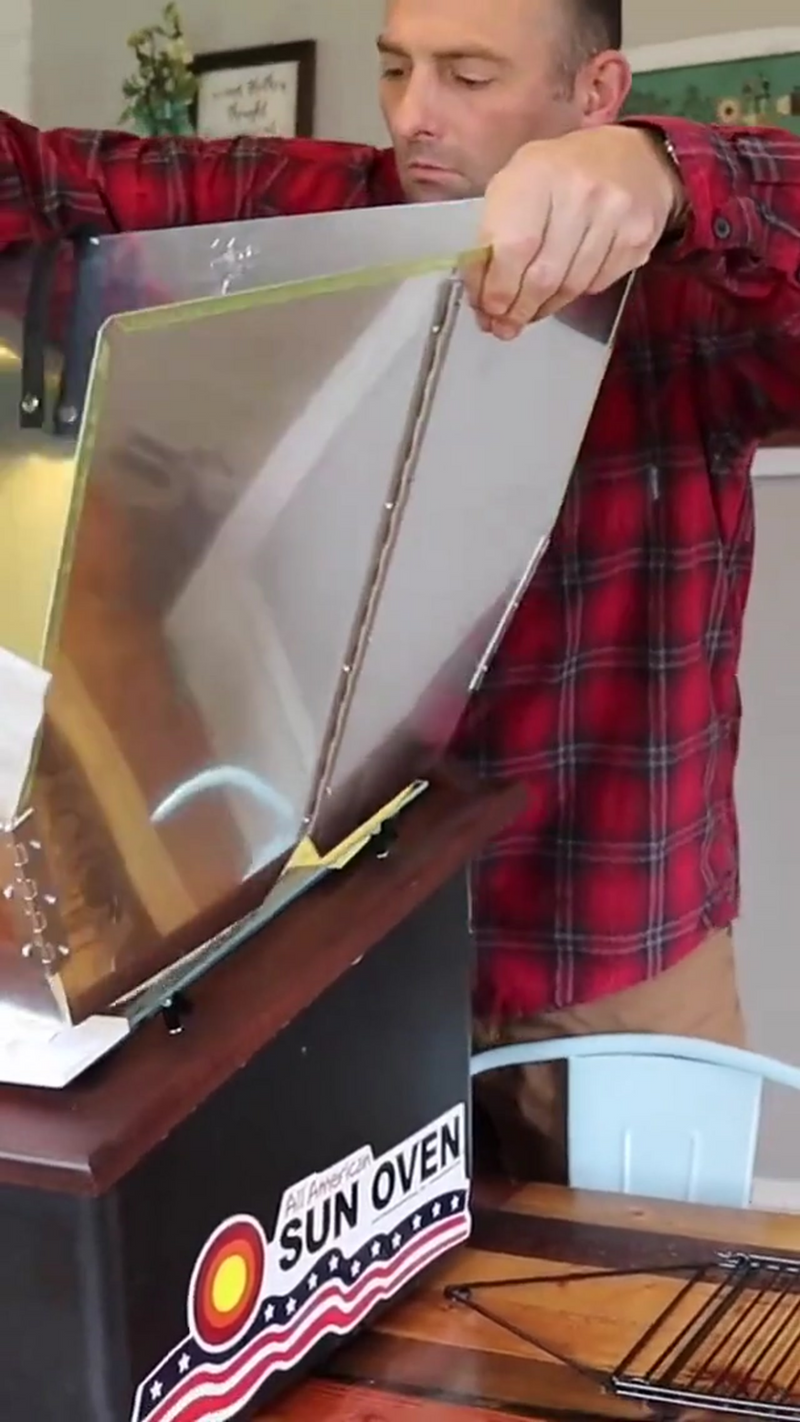 Extra Large Cooking Chamber
The Sun Oven offers a large cooking chamber that will support meals cooked in enamelware pots with lids, in a Dutch Oven, and other larger cookware. Bake bread, cook chili or stews, even corn on the cob for 6! You can cook a whole chicken and even a 14lb turkey in your Sun Oven
Great for Base Camp & Off-Grid
Cook for a large group at once with real cookware. No tiny tubes to deal with. If you're hunting, you can slow-cook yesterday's hunt and get melt-off-the-bone goodness. No fuel needed - great for off-grid living. Because there is no flame, you can use it during summer fire bans.
Loved by thousands
https://cdn.shopify.com/videos/c/o/v/860f57fa334946779189d0af899ad34e.mp4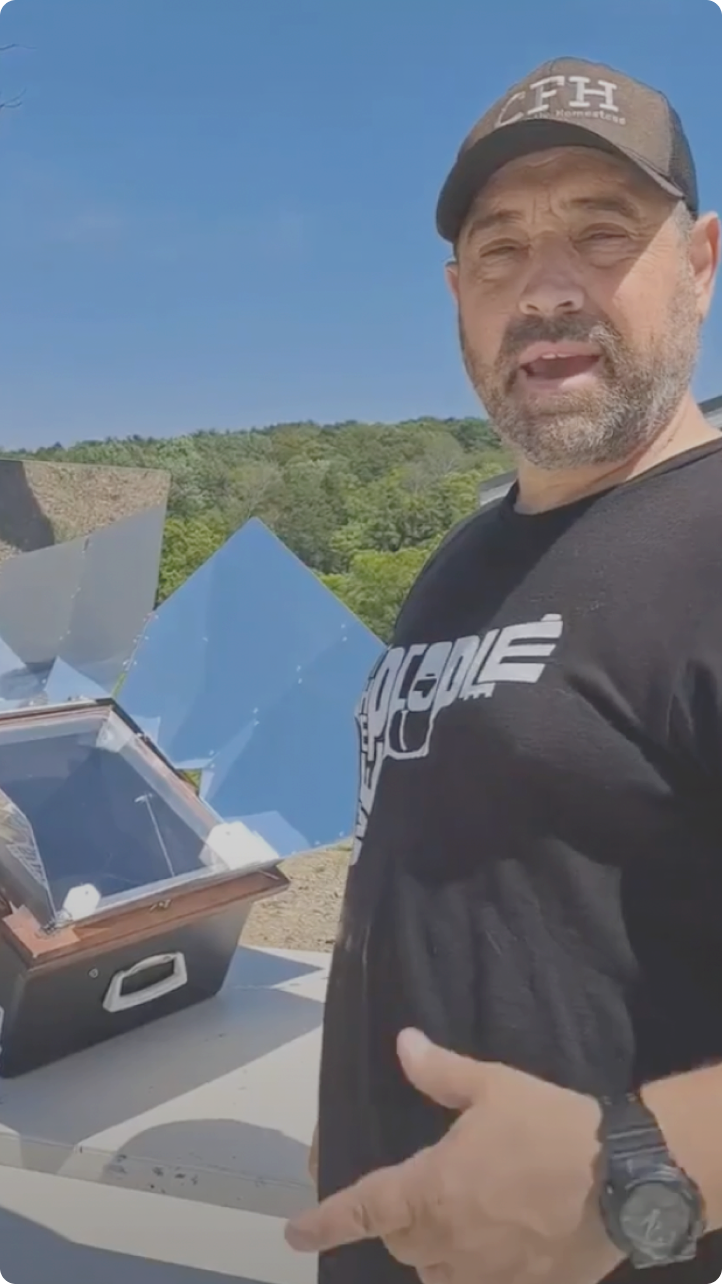 https://cdn.shopify.com/videos/c/o/v/86e45988adaa4b9ea6b07dad0911e5ca.mp4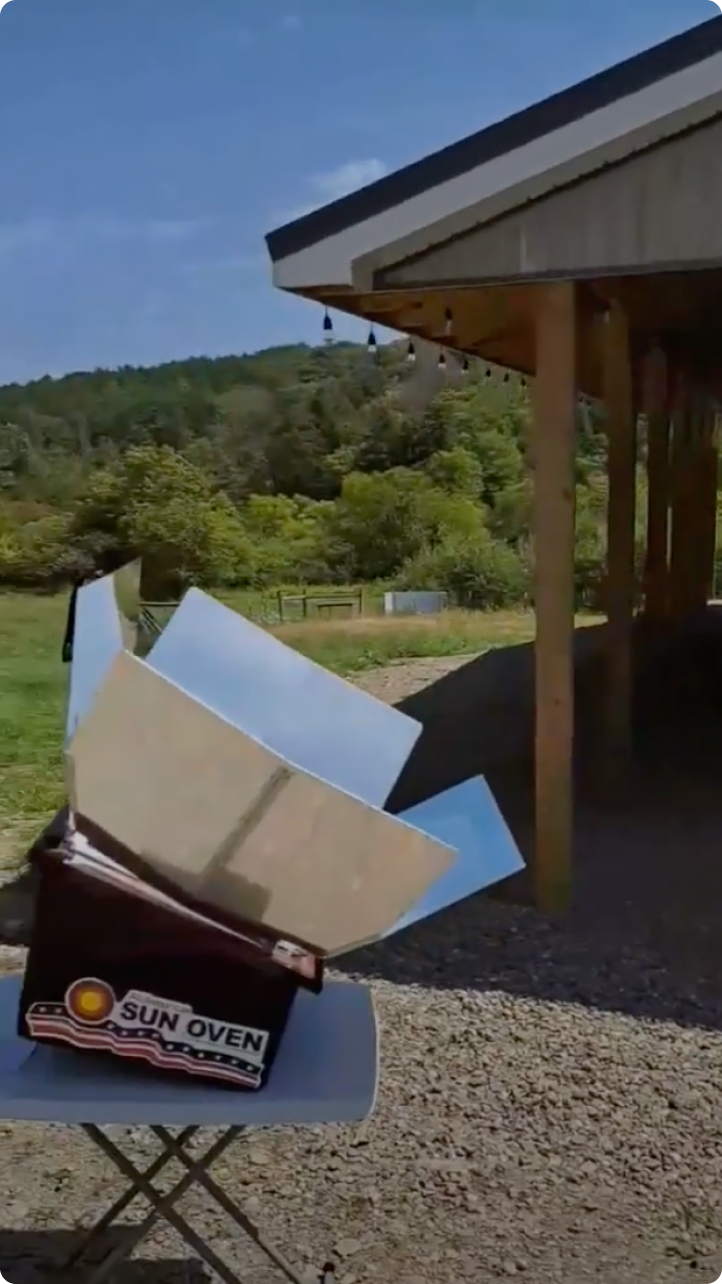 https://cdn.shopify.com/videos/c/o/v/1cecc4ac6ca0495ca958bc179ca6cf42.mp4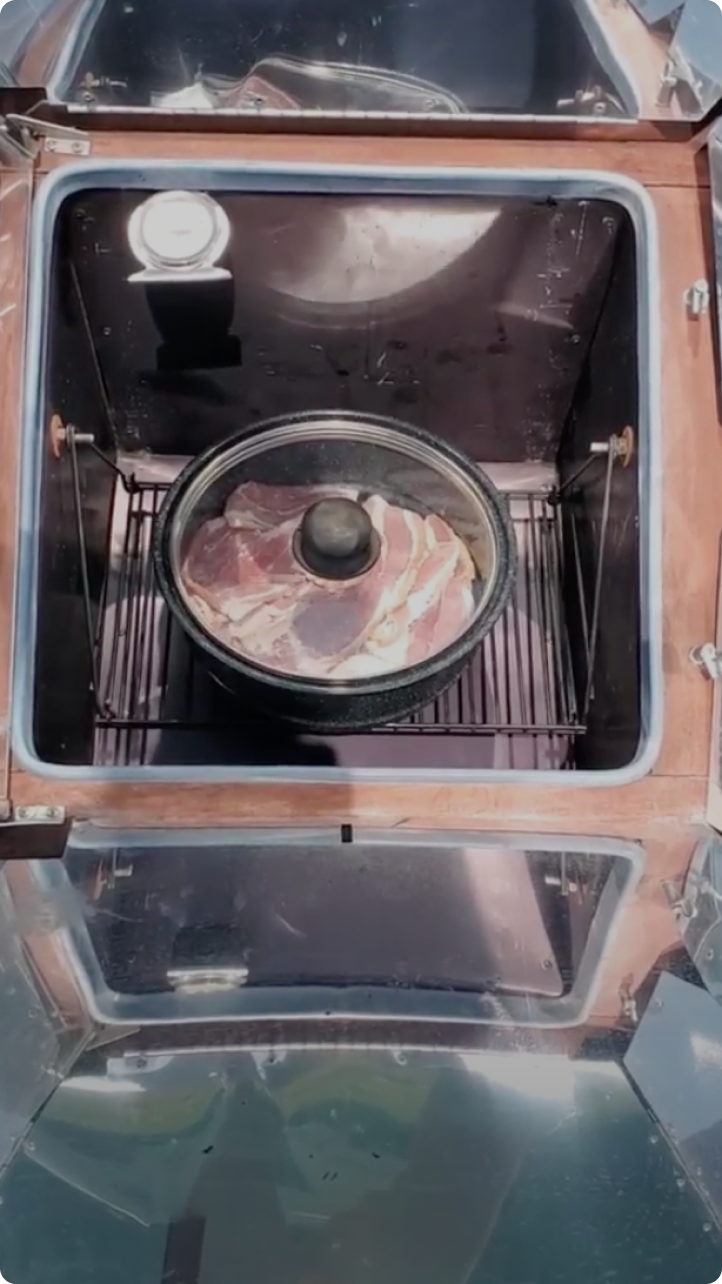 https://cdn.shopify.com/videos/c/o/v/0562565012d446c4932442629d210f06.mov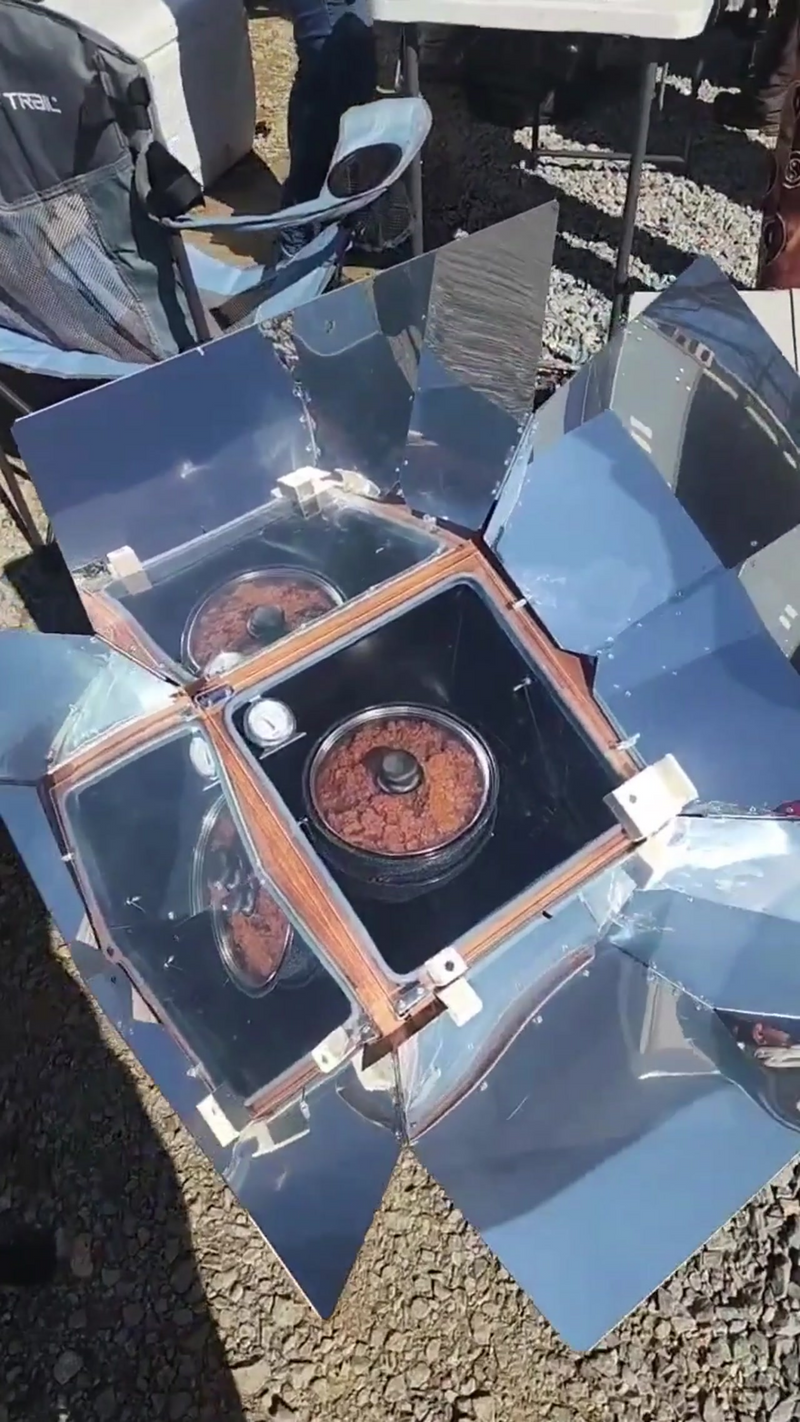 https://cdn.shopify.com/videos/c/o/v/3562c0ec6d754c0a90246cdb4b5c6e1e.mov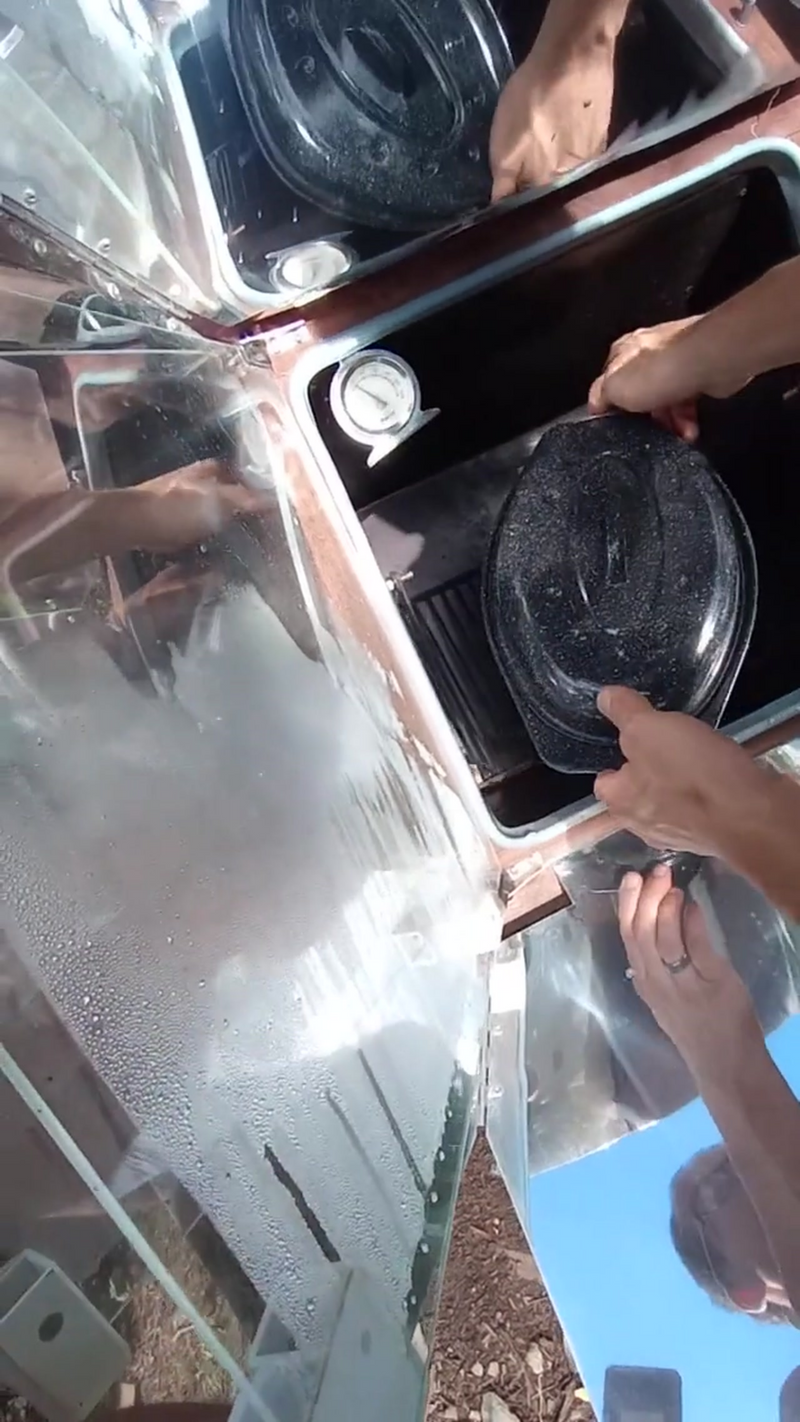 https://cdn.shopify.com/videos/c/o/v/27e9c6c415a348518220c4da55ea5ae7.mp4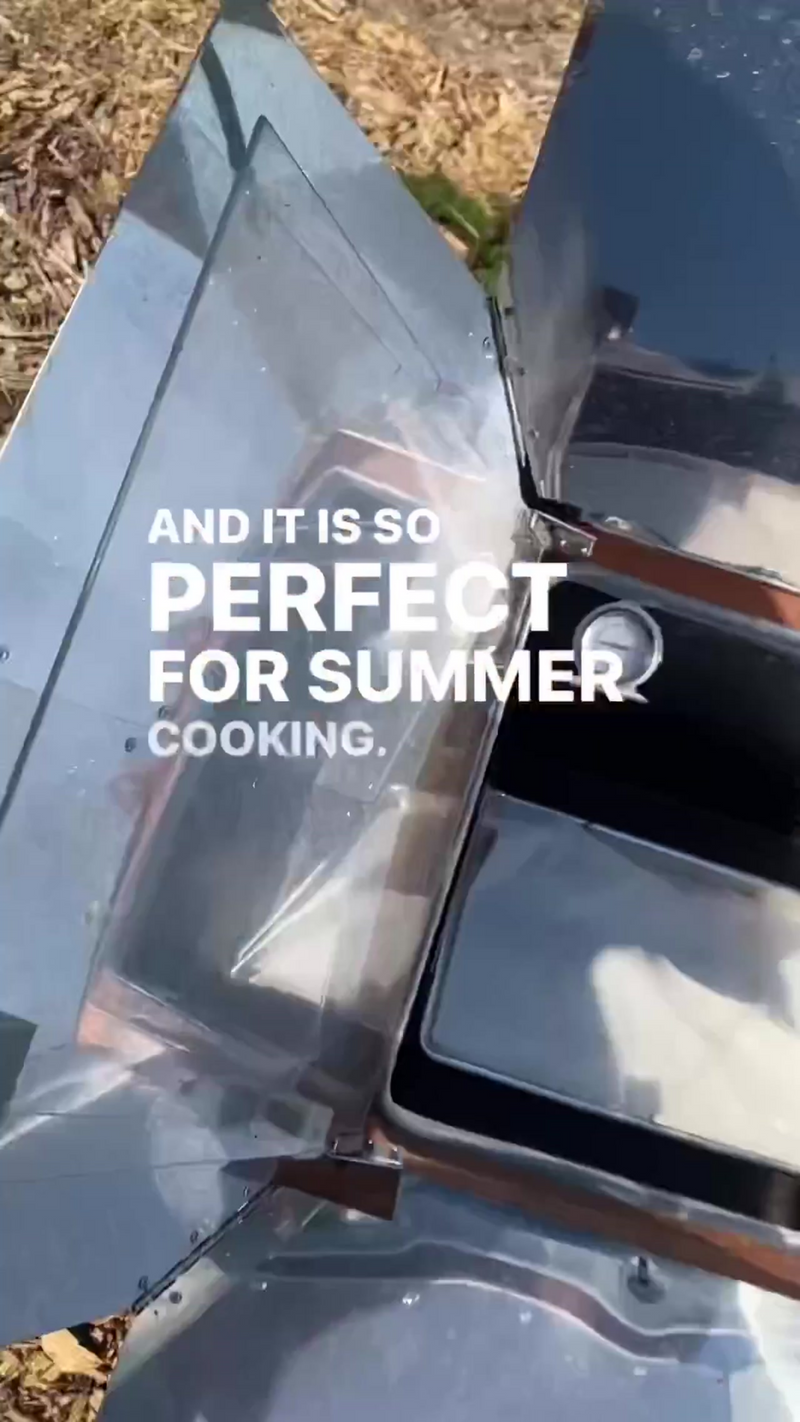 Endless recipes you can make
Roast Beef
1 hour, 20 minutes
Roast Chicken
1 hour, 15 minutes
Cookies
40 minutes
Brownies
35 minutes
Bacon
20 minutes
Sun Oven
The All American Sun Oven
$449.00
Save time and money with the world's strongest solar appliance.
No Electricity or Gas Required
Reaches 300-400 Degrees Fahrenheit
Cook, Bake, Boil or Dehydrate
Uses Normal Kitchen Cookware
Cut Down on Energy Bills
Great for Backyard Kitchens
Great for Outdoor Cooking During Fire Bans
Dry Herbs or Pasteurize Water
Shop Now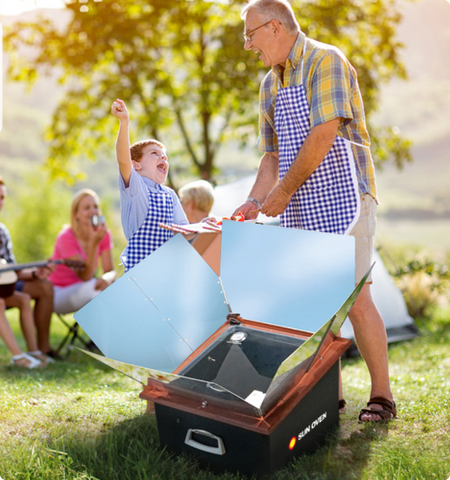 Solar Powered
No electricity or gas required!
Flame-proof
No fires and no burnt food!
Versatile
Cook, bake, boil, steam or dehydrate.
Customer testimonials
"Solar cooking is amazing. The All American Sun Oven is awesome and an excellent choice for longtime solar users like us and It is so easy to use it is great for beginners as well. So far we have made hard boiled eggs with no water, fried bacon, cooked biscuits, baked cookies, and the best baby back ribs I ever tasted."
Guitarzan
"I am delighted with the American Sun Oven because it really works. On a sunny day it rapidly reaches 350 - 400 degrees. And, you can easily prepare two loaves of bread and two meals in only a few hours. With the American Sun Oven all I need is the sun."
Gary Morgan
"I can not express how much I love my sun oven, I only wish I would have spent a little extra and got all the goodies! What I think I love most MADE IN THE USA! This is one item you must-have for your outdoor kitchen."
JCF/TLF
"This oven is a great way to save energy and avoid heating up your kitchen. If the power goes off you can still cook with this as long as you have the sun. Anything you can bake, roast or braise will work great in this oven.This is definitely a keeper!"
A great item to have
"My scepticism has dissolved. The American Sun Oven has turned out several beautiful loaves of wholewheat bread. I feel certain that anything that can be cooked in a 300-350 degree oven can be cooked with an American Sun Oven."
James Petty
"This is going to be a life saver! As soon as my other pans come I can cook 2 things at once."
Susan Myrick
The ultimate solar cooker
Since 1986 the Sun Oven has stood the test of time, becoming more relevant than ever. Whether your power grid is unstable, you're an outdoor enthusiast, you want a low-emissions lifestyle, or you need another oven because you love entertaining — the American-made Sun Oven outlasts and outperforms other solar cookers.