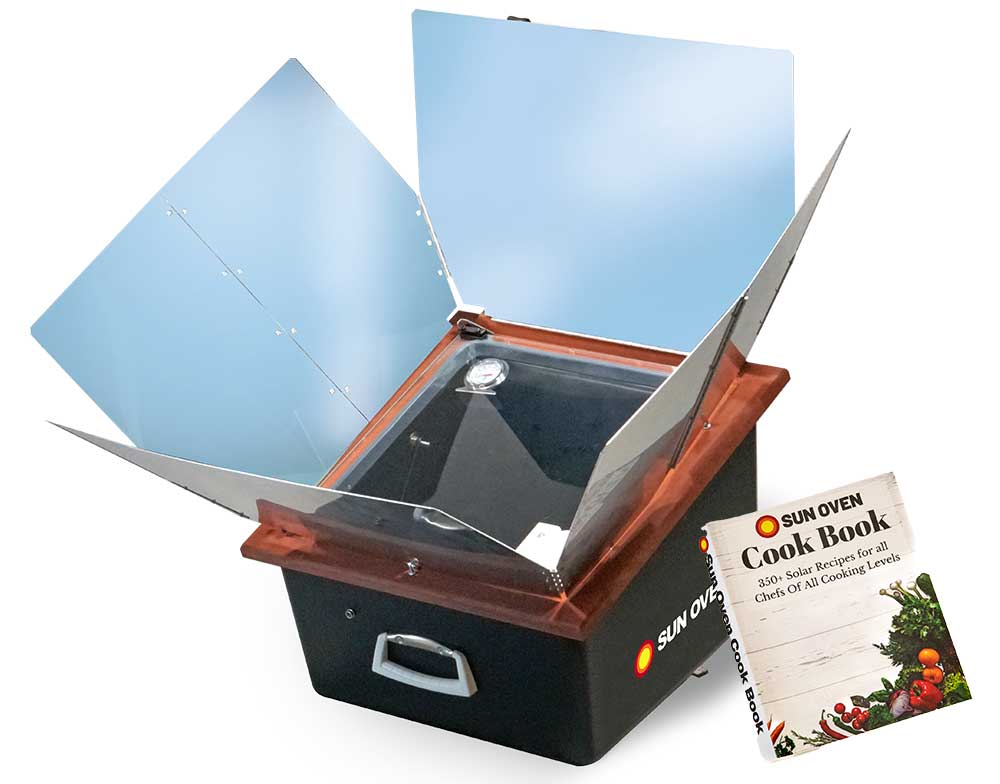 The All American Sun Oven®…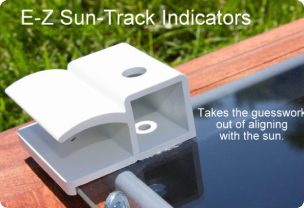 E-Z Sun-track indicators
The E-Z Sun-track indicators have two holes. As the light of the sun shines through the top hole, a small round dot of light will appear inside the indicator. When the oven is perfectly aligned with the sun, the round dot will be centered over the bottom hole.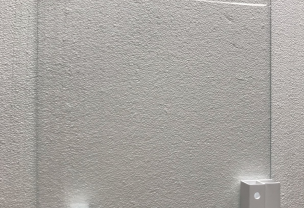 Extra thick Ultra WhiteTM Transparent Glass
The Ultra WhiteTM transparent Glass is 25% thicker than the glass on prior Sun Oven for increased shatter resistance and improved insulation.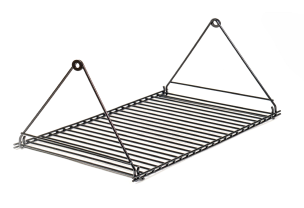 Dual purpose leveling rack
The dual purpose leveling rack is a key feature of the Sun Oven. When you tilt your Sun Oven up or down to align with the sun, the rack swings, keeping your food level and prevents spills. It also allows air to flow underneath your cookware for even heating.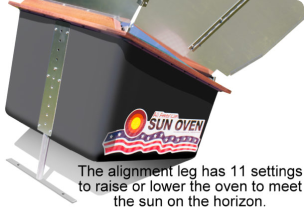 Wind resistant alignment leg with ground stakes
Allows you to raise or lower the oven's orientation to meet the sun on the horizon with increased stability. To prevent blowing over in high winds, the alignment leg can be staked to the ground or tied to a table.
Experience the power of Solar Cooking
Cook, bake, dehydrate, or boil with the world's most universal power source… The Sun!
Cook thousands of different recipes
You can cook, bake, boil or steam, all with the Sun Oven!
Reach up to 400 degrees fahrenheit
Enjoy delicious meals with the incredible power of the sun!
Excellent Dehydrator
Dehydrate jerky, fruit or vegetables!
https://cdn.shopify.com/videos/c/o/v/c5b277f074134a9e871890a03cfa6dbd.mov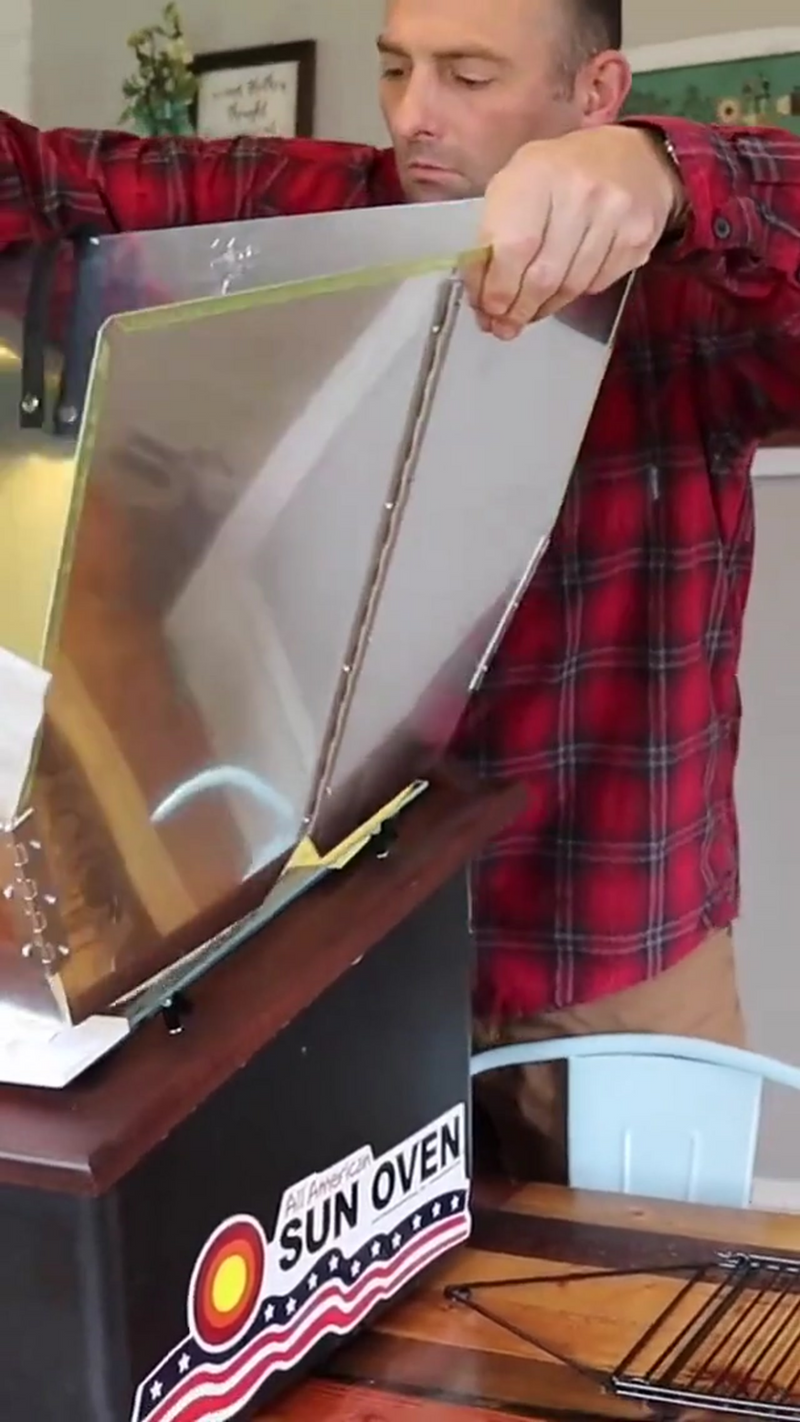 Cut down on energy bills
No electricity or gas needed!
Flameproof
No need to worry about a fire!
Strong and Durable
Ruggedly built for years of trouble-free use!
Ways you can use your Sun Oven
The solar oven of many uses.
Use it as a base camp solar oven for fish, game, herbs and vegetables. Use it during fire bans!
Use it at home in the back yard any time. Even if you do have electricity and grills. Solar cooking is fun!
Use it as a slow cooker, using normal kitchenware. Fits a roasting pan or even a Crock-Pot ceramic insert.
Use it as a dehydrator. Dry meat for jerky. Make sun-dried tomatoes. Dehydrate fruits and veggies.
Use it as a second oven. The large cooking chamber fits a whole chicken and up to a 14lb turkey. Keeps the house or RV cooler in the hot months.
Boil or pasteurize water! The most energy-efficient way to re-hydrate freeze-dried emergency preparedness foods.
The Sun Oven is a key piece of equipment for disaster readiness and homesteading.
Cook with ZERO CARBON EMISSIONS.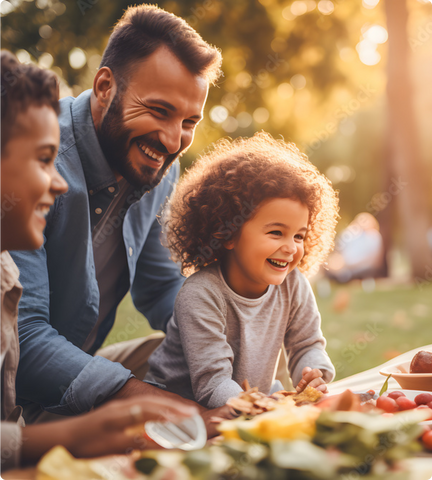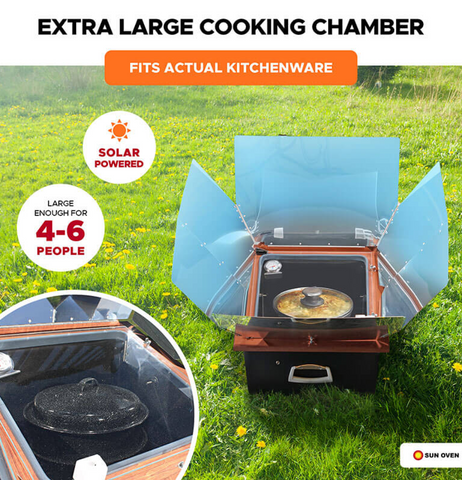 A Great Grill Companion
No backyard kitchen is complete without a Sun Oven! The Sun Oven does what your grill can't do. Start your slow cooked beans before you grill your burger! Roast the potatoes that will go with your smoked ribs tonight! So much you can do with a Sun Oven!
Extra large cooking chamber
The Sun Oven offers a large cooking chamber that will support meals cooked in enamelware pots with lids, in a Dutch Oven, and other larger cookware. Bake bread, cook chili or stews, even corn on the cob for 6! You can cook a whole chicken and even a 14lb turkey in your Sun Oven. Compare that to other portable solar cookers!
Cooks like an oven
If you refocus the oven to the sun every 25 to 30 minutes, cooking times will be very similar to cooking with a conventional oven. Or use it for slow cooking. Put dinner in and point the oven toward where the sun will be approximately halfway through the time you will be gone. Leave, and come home to a tasty, slow-cooked dinner. If you run late, no problem; the Sun Oven will keep your food warm, moist, and fresh for hours.
Customer testimonials
"Solar cooking is amazing. The All American Sun Oven is awesome and an excellent choice for longtime solar users like us and It is so easy to use it is great for beginners as well. So far we have made hard boiled eggs with no water, fried bacon, cooked biscuits, baked cookies, and the best baby back ribs I ever tasted."
Guitarzan
"I am delighted with the American Sun Oven because it really works. On a sunny day it rapidly reaches 350 - 400 degrees. And, you can easily prepare two loaves of bread and two meals in only a few hours. With the American Sun Oven all I need is the sun."
Gary Morgan
"I can not express how much I love my sun oven, I only wish I would have spent a little extra and got all the goodies! What I think I love most MADE IN THE USA! This is one item you must-have for your outdoor kitchen."
JCF/TLF
"This oven is a great way to save energy and avoid heating up your kitchen. If the power goes off you can still cook with this as long as you have the sun. Anything you can bake, roast or braise will work great in this oven.This is definitely a keeper!"
Kimberly Davis
"My scepticism has dissolved. The American Sun Oven has turned out several beautiful loaves of wholewheat bread. I feel certain that anything that can be cooked in a 300-350 degree oven can be cooked with an American Sun Oven."
James Petty